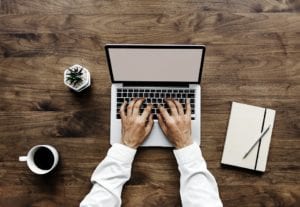 Someone visits your site, they get comfortable and fill out a form. Then, BOOM! A lead is created.
It sounds simple enough, so why is lead generation something so many businesses struggle with?
While there are websites that have mastered the art of lead generation, they're more the exception than the norm. The fact is, lead generation can be tough. An overwhelming 80% of marketers say that their lead generation efforts are only slightly or somewhat effective.
So, how do you win and capture high quality leads? It all starts with a website designed with a solid foundation of lead generating features. Here are 4 must haves to start with.
Clear, Recognizable Call to Actions
A visitor lands on your site because there's something they need. You, being a smart business person, have built a website and created content that makes it easy for them to find their answers. The only problem is that once they get what they came for, they're going to leave. They might return, or they might not.
You've provided value, so where's the return? Maybe the problem here is that you didn't make it easy enough for them to go further. Websites that generate leads have clear, recognizable CTAs that invite further interaction.
A great CTA should have the following attributes:
Easy to find. Think bold, contrasting colors, strong fonts and centrally located.
Action oriented. For example, "Join now" or "Start earning".
They're persuasive. "'Start your free trial now" or "Get connected for free" are examples.
Instill a sense of urgency. Make it feel like the only time to do this is now.
Consistent Contact Information
There's a ton of spammy websites out there, so leads are often hesitant to commit until they've developed trust in your brand. An easy way to build trust is consistent contact information.
Leads don't want to see 2 different phone numbers, and they want full contact information that includes a physical mailing address and email. Keep in mind that they might check you out on other platforms, like social media and online directories, so make sure your contact info is consistent across the board.
No-Lag Loading
Here's a couple quick statistics:
47% of users expect a site to load in less than 2 seconds
40% of users will back out of a site if it takes longer than 3 seconds to load
85% of users expect a site to load faster on their mobile device than on a laptop
The point here is you aren't going to generate leads if users aren't staying around, and a lag in load speed means lead generation is dead in the water.
Take steps to make sure your website loads quickly, such as responsive design, and troubleshoot for problems that could be slowing you down.
Effective Use of SEO
SEO is like a funnel that brings qualified leads to your website. When done right, SEO helps to define your target market, direct them to lead generating pages of your website, and help you analyze results along the way.
Even if you're using a PPC strategy to attract leads, SEO is still an important component for widening the audience and capturing the leads you wouldn't otherwise reach.
It's time for you to start generating more high-quality leads. Website design is one of the most important tools for making this happen. We're here to be your resource for lead generations. Contact JLB USA today to learn more.