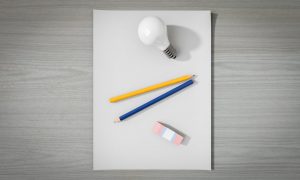 What happens the first time you meet someone? If you're like most people, you do a quick assessment and pick up on a few key details. These are the things you'll remember and keep in mind should you meet this person again.
We've come to know this as a first impression, and most people will say that it matters – a lot.
For small businesses, first impressions are opportunities. The right one can be the beginning of a long relationship but knowing how to stand out and make the best first impression is a challenge many SMBs face.
There's one crucial element that symbolizes your brand and embraces everything that you stand for. It's called a logo and if yours isn't strong, you're missing out on important opportunities.
Here's why a strong logo design is a must have for your small business.
Instant Brand Identity and Recognition
It only takes a new customer about 10 seconds to form a first impression of your logo. After about 5 exposures, customers will be able to easily connect it with your brand.
Now, think about everything else you're doing to increase awareness of your brand. You've probably spent a lot of energy creating a digital marketing strategy to get noticed. But how many social media posts will someone need to see before they start to instantly recognize your business?
Probably more than five unless you have strong logo.
Since your logo is basically the handshake that introduces you to your customers, the quality of it is super important. Just think about the difference between someone who makes a weak, half-hearted attempt at shaking your hand and compare it to someone with a handshake that's firm, confident and welcoming.
Who would you rather do business with?
Taking the time and effort to develop a logo that's strong and conveys all the values of your brand is essential for developing a positive brand identity and recognition within your market.
The Value of Trustworthiness
There are many advantages to being a small business, but there are couple disadvantages too. One of the biggest being that it's harder to instill a level of trust in your brand when you're small and relatively unknown.
The fact is that consumers trust what they know, and they're more likely to take that into consideration when making buying decisions.
Let's take a look at Target, for example. This is a company that has one of the most well recognized logos in the United States. Love em or hate em, when you see their logo you know exactly who they are and what you're getting. A consumer isn't even giving trust a second thought with anything associated with their logo.
A strong logo can do the exact same thing for your brand, but on a smaller scale.
Points for Professionalism
Finally, a strong logo shows the world that you're a professional. When was the last time that you engaged with a true professional in their industry that didn't have a rock-solid logo to back up their image?
It's also true that industries are filled with highly qualified professionals that go unnoticed because they're lacking validation features, like an amazing logo. Don't let this be you.
You don't want to take something as important as logo design into your own hands, and you certainly don't want to leave it to amateurs. Contact JLB Florida today where our talented web designers can create a logo that speaks for your brand.