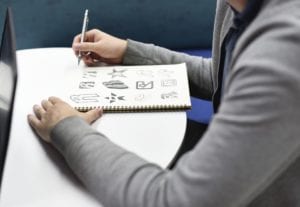 First impressions are a once in a lifetime opportunity. Unless amnesia strikes, you only get one chance to make a favorable first impression with every potential customer you meet. The thing about first impressions is that they're formed in a matter of seconds, meaning that if you aren't presenting yourself with your best foot forward, a would-be customer might walk away before you were even able to shake their hand.
For businesses, first impressions are often formed on how they're represented visually, otherwise known as a logo.
While it only takes a mere 10 seconds for someone to form an initial impression of your brand, the importance of a strong logo doesn't stop there. A great logo serves your brand, and here's why they're so important.
A Strong Logo Unifies Your Brand
The purpose of a logo is to serve as a central, instantly identifiable visual element that represents your brand. It takes about 5 – 7 impressions before someone begins to really connect a logo with a brand. But, there's a misconception out there that poorly designed logos don't work. The fact is they work plenty, just not the way you want them to.
Customers associate a weak or generic logo with a brand that just didn't put in the effort. If you're hiding behind a lackluster logo, it doesn't matter how great you are. This is especially true for smaller businesses that might not have a heavily padded marketing budget. You need a strong logo to pull it all together and stand out.
A great design carries you across every medium, – print, digital store design. It's an inexpensive way of unifying every element of your business and conveying your authority.
Don't Look Now, But You're Swimming in a Sea of Competition
Not to alarm, but there's a lot of sharks in the water behind you and they're each willing to fight for the same thing – your target audience.
It used to be that smaller or local businesses were competing within a very limited market. The digital age has changed this completely. More businesses aren't just trying to beat out Joe down the street, but also the e-commerce business that's in an entirely different time zone.
Let's say you sell landscaping supplies. Without actual numbers, it's safe to say most of the companies will have a tree in their logo. It makes sense, but it doesn't make them stand out.
A great design isn't all about identifying the purpose of your brand, it's meant to stand out, grab attention, and convey mastery of your industry. Simply put, a great logo gives you an instant competitive advantage.
Build Customer Loyalty
To be successful, you need to not only attract new customers but build loyalty within your existing ones. One of the things you need to keep in mind when doing this is that your customers are human, which means they're emotional and visually stimulated.
If a customer has invested in you, but then a competitor comes along with a shiny, impenetrable brand image, chances are they'll at least want to try them out. Image means a lot, and if your service is comparable, you might not win them back.
A weak logo can keep you in the "friend zone" when someone with a stronger image comes along. Yes, your customers still like you, but you're just not the one. A strong brand image built around great logo design provides the emotional validation that loyal customers need.
First Impressions Last
Would you like to know more about how branding, including logo design, is a crucial element of your digital marketing strategy? We're the full-service internet marketing team that can help. Contact JLB Florida today to learn more.