Though ecommerce is a fraction of overall retail sales, it has clearly been outpacing brick and mortar sales year over year for some time now.  The National Retail Federation predicts that non-store sales will grow 8-12% in 2017, compared with a projected 3.7-4.2% growth rate for the retail industry as a whole. Globally, it is a USD $19 billion opportunity. This presents an opportunity for retailers of all sizes to reach customers who are not necessarily in the same geographical area where the retailer operates. Cross-border commerce is a significant opportunity for retailers to tap into. Forrester estimates the size of the cross-border online retail market to be in excess of $1 trillion and it is growing at an annual rate in excess of 20%. Just China by itself accounts for USD $997 billion, regions in Southeast Asia are growing at a rate of  16% cumulative annual growth (CAGR), with India growing at 75% and the Middle East growing at 45%. The opportunity is significant for SMBs and brands alike since cross-border presents a major revenue opportunity and by providing unique products and great customer service, they can tap into the entire world as a market.
There are a number of strategies that brands and SMBs can adopt to reach its customer:
Sell online through their own website

: This can be built using one of the several popular ecommerce platforms such as Magento, Shopify, BigCommerce, WooCommerce, etc. Rand Marketing can help you to identify the best ecommerce platform for your needs and goals, and assist you in designing, building and launching your site, as well as helping you to market your online store, driving shoppers to your website.

Sell online through online marketplaces

: In a cross-border context, this means selling on online marketplaces which are popular in a particular country or region. Some of the marketplaces include Amazon, eBay, NewEgg, Rakuten, etc. in the US, while there are regional marketplaces such as Lazarda, Zalora, Flipkart, Souq, JD.Com and Alibaba that are more popular in India, Asia and the Middle East.

Sell through physical stores

:  This pertains to larger online brands who set up physical stores or collaborate with businesses that have physical stores to offer both an offline and online channel to their customers.

Provide multiple shipping options by providing options for delivery and costs associated with them

:  In the US, major shipping carriers include FedEx, UPS and USPS.  To address the market needs in other countries, popular regional shipping options have to be used. Some of these include DHL(International Shipping) , One World ( UK), Deutche Post (Germany), Canada Post(Canada), UK Royal Mail (Great Britain), Blue Dart(India), DTDC (India) and Aramex (Dubai). In some cases, a freight forwarder or other solution may help you to leverage such options.

Either hold inventory in their own warehouses or use a third-party warehouse to hold their inventory

:  Examples include Amazon FBA options or other 3PL warehouse.

Sell items that they don't hold in inventory through drop shipping

: This option involves getting your vendors to ship directly to your customers.
These strategies involve complexities outlined below that have to be addressed for a smooth operation:
Manage all the orders from each of the sales channels in a centralized dashboard

. This gives you complete visibility of the overall orders to be handled.

Have complete visibility of the inventory of goods that you have in stock and the location where they are available.

Keep track of the available inventory and alert you based on preset condition like safety stock levels and lead times for delivery.

When the inventory is low, automatically receive alerts to reorder quantities based on historical sales data and the order stream.

Keep track of orders by being able to automatically block inventory for fulfillment, partially fulfill orders and keep track of unfulfilled and partially fulfilled orders.
Automatically route the orders to the location from where they can be fulfilled using filters such as availability of stock, transit time for the order to reach the customer and the costs involved for fulfillment.

Have clear visibility of the status of orders as they go through the lifecycle of picking, packing, shipping and completing delivery to the customer, providing real time information on the status of the order for each of the stakeholders, both internal and external.

Select the most optimal shipping option to fulfill the package when shipped from your warehouse.

Update the quantity available for order on all of your sales channels.

Improve operational performance by automating many routine and repetitious tasks, ensuring quality checks and minimizing manual input.

Automatically generate reports that provide valuable information about your business. This includes information on fast selling items, most profitable items and other sales reports.
Online businesses or businesses going online can reap the benefits of such operational optimizations, insights and automation by utilizing a specialized order management system (OMS) like Vin eRetail that provides SMBs the ability to sell on multiple marketplaces domestically and also reach international customers through cross border marketplaces. With ready integrations to 3PLs and marketplaces globally, such a platform can help you to manage orders and inventory from a simple dashboard, track and trace information to customers and provide you with real-time inventory updates to all channels.  Schematically, it would be something like :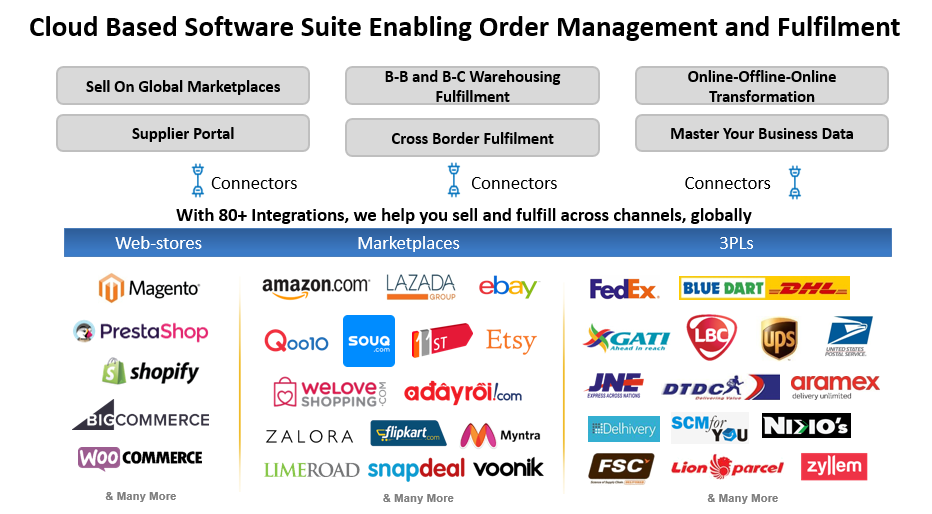 To learn more about how Vin eRetail can help grow your business with a Cloud Based Order Management & Fulfillment system, we welcome you to reach out to marketing@vinculumgroup.com, or ask your Rand Marketing sales or account manager for more information.  To learn more about building and marketing an ecommerce store, JLB USA is here to help.