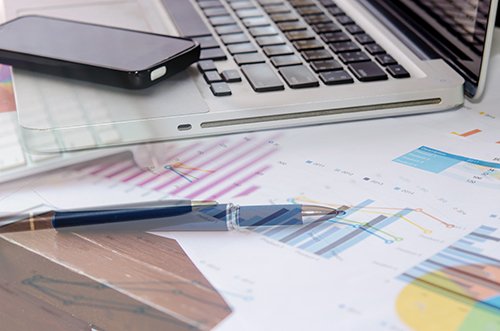 We recently provided a look at how to learn from your Google Analytics Audience data. As the next installment in this series, we'll be walking you through Behavior data, helping you to uncover how visitors are interacting with your website itself. This data can lead to lots of E-commerce conversion optimization opportunities for your website. Major points that merchants look to include:
Behavior Flow
This chart helps you to map the flow of your website visitors. Understanding how shoppers are navigating through your website can be crucial to optimize their shopping experience. In some cases, you may wind up adjusting menus and other navigation elements to help them get to their destinations faster.
Site Content
Possibly the most important area of Google Analytics' Behavior reporting, Site Content provides a wealth of information about how visitors are interacting with individual pages within your website. This includes reports on:
All Pages – This report will give you a glimpse into the pages on your website that Google is tracking – which should be all of them. You'll see which pages are viewed the most, how long shoppers are spending on each page and the bounce rate of each page. Bounced traffic suggests that users left immediately.
Content Drilldown – This is similar to the All Pages information, but helps to organize pages through a parent/child structure. In an E-commerce website, this can help you to see all of the product pages within a category, making it easier to sort and compare the performance of similar pages.
Landing Pages – The pages that people first enter your website on are extremely important, as they can lead them on to make a purchase, or can be points of friction that get them to exit. This report will show you key data, including conversion rates and revenue related to various landing pages.
Exit Pages – Similar to landing pages, the Exit Pages view helps you to see where you're losing shoppers in your funnel. By identifying the points that they're leaving your website from, you can employ conversion rate optimization

techniques to try to get them to continue on to checkout from your website.
Site Speed
Loading speeds impact conversion rates, search engine optimization, and even quality scores in Google AdWords campaigns. Google Analytics provides a wealth of information about what pages on your website are loading slowly, and recommendations to help you optimize your E-commerce website loading speeds. There's even data on loading speeds by browser, helping you to determine if your site is struggling to load on specific desktop or mobile browsers.
Site Search
This has historically been one of my favorite reports. It's fairly easy to enable Google Analytics for most E-commerce platforms, like Magento, although you will probably have to enter a query string. Once running, these reports will tell you who things like how much more likely you are to generate a sale if a shopper user the search box on your website. Keep in mind that this will often be a higher conversion rate since the shopper knew what they were looking for… at least enough so to type it in the box.
However, you can use these reports to see which search terms are generating sales for you, and which aren't. In some cases, seeing this data may get you to consider upgrading your site search technology, or at least using synonyms and other native features in your E-commerce platform to bring shoppers to better search results.
Conversions
While it's own section in Google Analytics, Conversions houses your Ecommerce goal tracking data. Once set up properly, this juicy data is found throughout many other reports in analytics. Most E-commerce platforms like Magento, BigCommerce, and Shopify make it relatively easy and painless to get this up and running. Tracking which traffic sources and actions are leading to sales is obviously a crucial component to leveraging the power of Google Analytics with your online storefront.
Your eCommerce conversion tracking reports will tell you about your Ecommerce Conversion Rate and sales history by product, among many available insights. There's even a Time to Purchase report, which gives you insight into how many of your transactions are the same day, versus purchases that took shoppers 1 day, 2 days, or up to 28+ days to complete. The more that you know about your sales cycle, the more that you can leverage solutions like ReMarketing and Abandoned Cart E-mails to help improve your conversion rates.
Multi-Channel Funnels & Attribution
If you haven't read these reports, you're really missing out. At the heart of these reports, is the understanding that conversions aren't always instant. It can take days or weeks for a shopper to complete a purchase. Think of this as a research phase. We can now discern two major types of information from this phase:
Funnels – How your digital marketing is impacting your sales funnel. In many cases, shoppers are returning to your website because of paid ads, Emails, Social Networking, or other important factors. It's not an all or nothing. Just because a shopper visited your site the first time via a search engine, for instance, doesn't mean that your other marketing isn't working for you. These reports help you to see more of a complete picture.
Attribution – While we wait on the deployment of a new, more robust stand-alone attribution platform from Google, we're glad to have these reports in Google Analytics. Attribution allows you to see which marketing efforts generated your sales through different eyes. For example, First Click attribution will show you which marketing efforts got shoppers into your sales funnel in the first place, whereas Last Click attribution shows which marketing effort led to the close of a sale. However, without having gotten that first click to your site, perhaps through Google AdWords, you may not have ever gotten the chance to get to the last click and close the sale.
Not ready to be an analytics Guru just yet? For help with Google Analytics accounts, integrating analytics with a shopping cart software like Magento, BigCommerce, or Shopify, reviewing data and reports, or using analytics information to optimize your E-commerce store or attract additional targeted traffic, consider collaborating with an internet marketing firm with a well-established background in E-commerce. Contact us today to get started!