Guest Post from our partner, Feefo.
Building yourself an online presence can be tough these days. With so much competition on the web it can seem difficult to get your name out there as a trustworthy brand. Online reviews are a great way to not only build trust with potential customers, but it can also do wonders for your SEO and general website performance. In this article we'll look at why reviews have become so big and how you can best utilise them for your marketing strategy.
The prominence of reviews in search
Google has made some changes recently to how reviews appear in the search results. Previously, your Google reviews were the only reviews that would appear in the knowledge graph on the right hand side. Any third party review sites would appear in the standard search results, meaning they were slightly less prominent.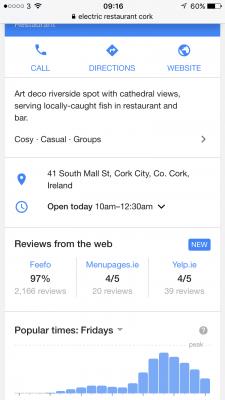 The recent updates from Google now mean that any third party reviews are displayed in the knowledge graph alongside your business information. This means that reviews for your business and products are more important than ever.
How to get good reviews and avoid spam
To ensure that you get good quality reviews for your business you need a strategy for obtaining them. Using third party systems such as Feefo means that the work is done for you. Feefo is an invite-only platform meaning that only customers that have purchased a product or service from you can leave a review. This eliminates the possibility of spammy or fake review.
Depending on the nature of your business, you should work out how long to wait before sending a feedback request. For example, if someone has bought a product from your site that won't be delivered for another three working days, you might want to send a feedback request for a week's time so that the customer will have received and used the product. Similarly, if you're in the travel industry, you should wait until your customer has returned from their trip before requesting a review.
How to deal with negative reviews
It is possible that once every so often you'll come across a negative review about your business or site. Statistically, it takes 10 positive reviews to outweigh one negative review. The key for these types of reviews is to enforce disaster management. You should always respond publicly to a negative review to let customers know that all opinions are taken on board.
When writing your response, you must firstly look at the situation fairly. Is there something you could have done to prevent the complaint? If so, then you should take on board the constructive criticism. It could be something that has put others off of your business.
Once you've written your response, get some of your colleagues to read it to see if there are any improvements or amendments that could be added. Giving a prompt response to a negative review is always a good idea as it lets the customer know that you care.
Where to display your reviews
Depending on how your site is structured there are many places to display your reviews. It is always a good idea to have your overall score on your homepage somewhere to make it immediately obvious to your customers that you're trusted. You can also include product-specific reviews on the corresponding pages on your site so that your customers can see what others think of the product or service they're looking to buy. 85% of consumers are influenced by the reviews they read online.
How they can improve your click-through rate
Once you have a decent amount of online reviews, you'll notice more business coming to your site. Once you have 150 reviews online you will start to see a star rating appearing in the search results (providing you have your schema mark-up in place). On average, click-through rates improve by 17% once you have organic stars in your search listings, according to Google Inside AdWords.
Sharing your reviews
Once your customer has left a review it is always a good idea to promote it via your social media. Not only does this show your potential customers that you value their opinions, but it also helps your SEO. Creating natural, organic social links to your site means that search engines will see your business is worth talking about!
Not only that but did you know that when someone shares something on social media, on average 273 people will see it – all of which are potential customers!
In conclusion, online reviews are a great way to improve your business no matter what size company you are or what services and products you offer. The more reviews you collect the more you will get out of it, so why not start today?