Guest Post from Our Partner, Saleswarp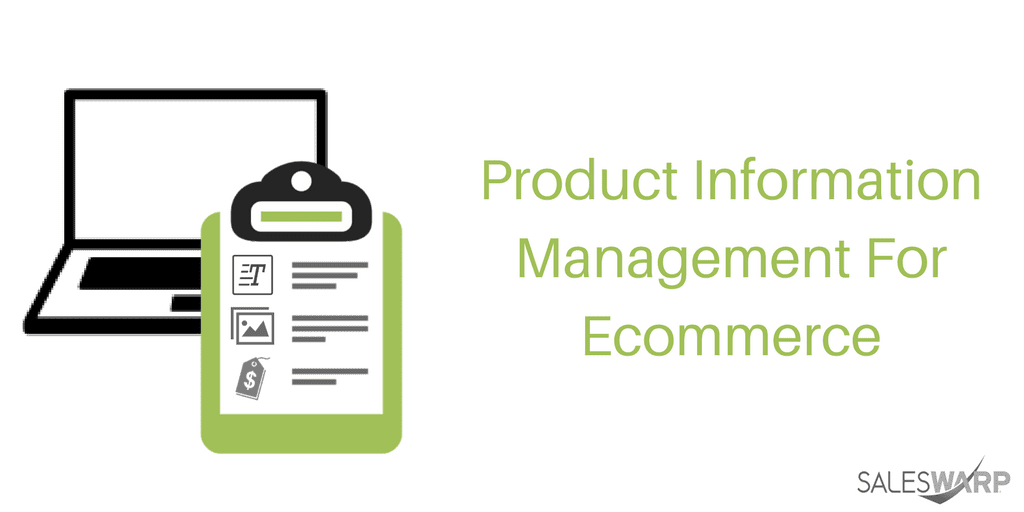 Today's shoppers have more options and shorter attention spans than ever, so providing a convenient shopping experience is of utmost importance.  A seamless and convenient shopping experience starts with optimizing product listings.  Providing quality product content and optimizing product listings ensures that customers can easily find your products online and that you beat your competitors in search rankings, ultimately increasing sales.
However, managing product information is no easy task – especially if you're selling on multiple marketplaces like Amazon, eBay, and Walmart, in addition to your own BigCommerce, Magento, Shopify, or Zoey store.  In this blog, we'll cover the common challenges retailers face when it comes to ecommerce product management, tips to improve the product information management process, and how a product information management (PIM) system can help retailers overcome these challenges, in order to provide a superior customer experience and increase sales.
Categories and Attribute Management Tools
Ecommerce is becoming increasingly more competitive, which is why making your products easy to find should be a top priority.  Assigning categories and attributes enables shoppers to quickly sort and search for the item they are looking for. An order management system with a PIM solution like SalesWarp allows for unlimited categorization and custom product attributes specific to your industry or product type.  The more attributes you supply and the more accurate you are when assigning your product to a category, the higher your product will be ranked on a product search page.
Pricing
In addition to making products easy to find, it's important for retailers to be competitive when it comes to price.  However, when it comes to managing prices for thousands of products across multiple channels, it becomes difficult to manually update pricing.  
SalesWarp provides dynamic repricing tools, allowing retailers to update their product prices for multiple or specific channels, from a single dashboard.  This dynamic repricing tool allows retailers to define who their competitors are, and compete for the sales they want, without sacrificing profit margin.  This ensures that their products hit page 1 and win the Buy Box on sites like Amazon.  
Kits and Configurable Product Management
Kits and configurable products are important promotional tools retailers use to drive revenue by offloading slow-moving inventory and freeing up warehouse space.   Similar to cross-selling and up-selling products, examining these bundles with a single view of product data helps retailers identify additional selling opportunities by grouping products into a bundle package.  A PIM solution provides a single view of product data essential to create and support these bundles.  PIM systems assist retailers with merchandising and tracking these products and purchasing by giving merchants the ability to classify kits as one purchase.
Product Images
Not only does providing product images help retailers stand out from their competitors, but according to Salsify 66% of customers say they want to see at least three images of a product while shopping.  The more images provided, the better.  However, managing multiple product images for several products can be a challenge without a PIM system.  A PIM system allows retailers to upload and manage several product images, and automatically publish the images with their product listings on multiple channels.  Ultimately, this drives conversion rates and increases revenue.
Consistent Product Information
Last but certainly not least, and possibly one of the most important components of product information management is providing consistent product information.  Customers expect to see product consistency across all channels, including product availability, images, and pricing.  Disparities of product data between various sales channels can lead to a difficult and confusing shopping experience.  This can result in a poor impression of the brand image and can have a negative impact on sales across various channels.  A PIM system has product sync tools which makes updating and publishing unique product information on multiple channels a breeze.
Retailers need to ensure all of their product information is sourced, standardized, and accurate, and then needs to be published as quickly as possible in order to expedite a product's time to market.  Manual product management and publishing not only time consuming, but results in inconsistent content and formatting, incomplete fields, and duplicate data.   
A product information management (PIM) system allows merchants to efficiently source, optimize, and enrich product data to deliver a unified and convenient shopping experience across all channels.  To find out more about how SalesWarp can help you better manage multichannel product information in order to provide a superior customer experience and increase sales, schedule a consultation call with SalesWarp today.