Guest Post from our partner, iD Commerce + Logistics.
For many e-commerce entrepreneurs, the most efficient and cost-effective way to manage fulfillment involves partnering with a third-party logistics (3PL) expert. Not only do 3PL providers translate fixed warehousing costs (rent, utilities, salaries) into variable costs (pay per unit shipped), but they also have the expertise required to serve as brand ambassadors, analyze supply/demand trends, and scale fulfillment during peak seasons.
Before developing an e-commerce site and selecting a 3PL provider, it's important to understand the ways in which information is passed between shopping carts and fulfillment operations.
When an order is placed, where does the pick, pack, and ship information go? How are tracking numbers and returns handled? What are the benefits of major e-commerce platforms?
Depending on the shopping cart platform, integration is usually handled via three primary methods:
1) E-Commerce Platform Integration – The vast majority of shopping cart platforms on the market today offer open application program interfaces (APIs). Through a simple link with an existing API, information is passed seamlessly between the shopping cart and fulfillment provider.
In real-time, inventory levels, returns, and tracking numbers are updated on both ends of the system. This fluidity makes it simple for both e-commerce businesses and fulfillment providers to keep track of the bi-directional product flow.
Examples of shopping cart platforms with simple API integration include: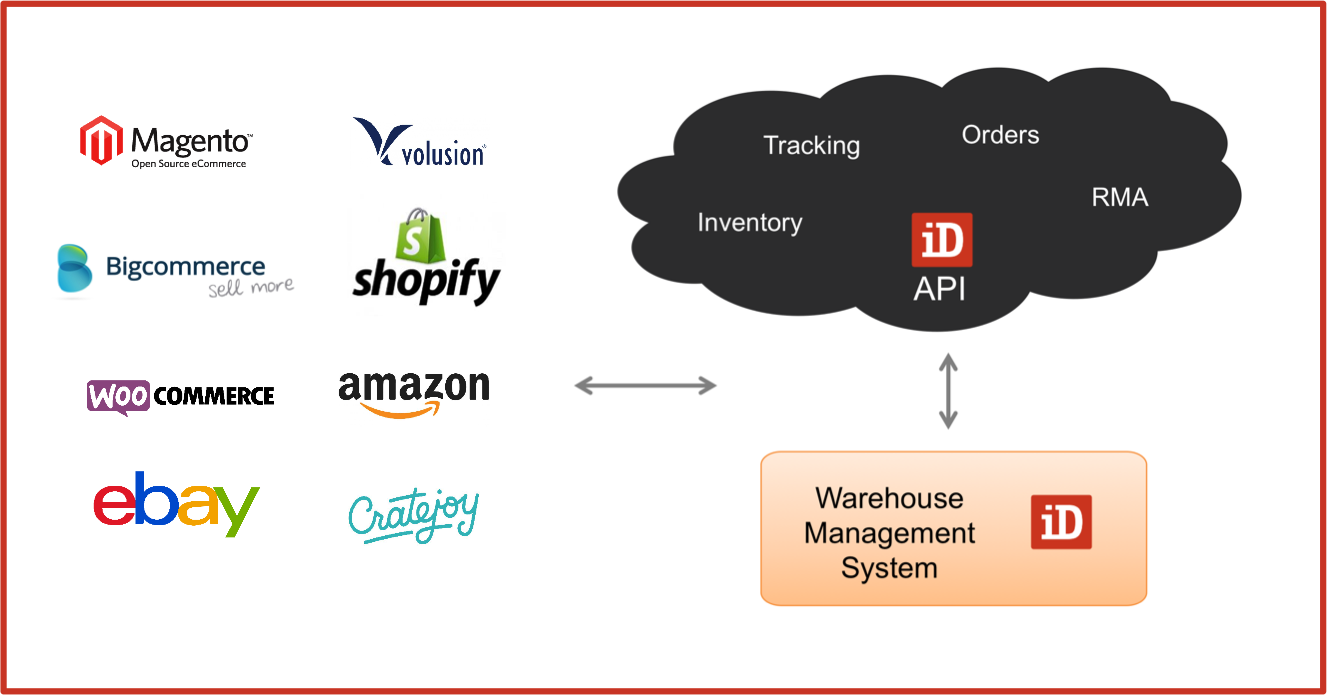 Magento

Bigcommerce

WooCommerce

Volusion

Shopify

eBay

Amazon

Cratejoy
2) Web Service Integration — To integrate with e-commerce businesses that aren't running on the major platforms listed above (or businesses that want to have increased control over the fulfillment process), 3PL providers develop proprietary software known as web services to facilitate the transfer of data. It's best to think of web services operating under a "pull" approach rather than a fluid "push/pull" model.
3) Flat CSV Files – If APIs or web services are not available options, then inventory, tracking, and returns information can be uploaded manually or sent at batch intervals. Fulfillment data dumps typically occur in the morning, at 12pm, and again by 3pm CST for rush orders. This data is best passed using Excel files saved in CSV format (according to specific guidelines) to ensure data integrity.
No matter what size e-commerce business you operate (even if you're just getting started), fulfillment should not be a secondary decision. With just a little research and planning, ensuring seamless integration between your fulfillment software and online storefront should be a breeze. After all, fast, accurate, and well-presented orders translate into happy customers and repeat sales.
---
About iD Commerce + Logistics — iD is a third-party logistics (3PL) expert specializing in product fulfillment across multiple verticals including healthcare and beauty care, toys, subscription boxes, CPG, and more.