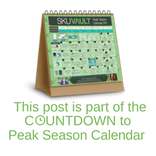 In order to survive online as an eCommerce merchant, you have to implement tactics other than word-of-mouth marketing and a few ad placements. Your product is not going to sell itself. eCommerce merchants and eCommerce companies should consider implementing an inbound marketing strategy. Inbound marketing is a strategy used to pull in leads through blogging, content marketing, SEO, social media, and shareable resources in general.
The warehouse management system industry is actually a great platform for inbound marketing. Clients and potentials are looking for resources to help them along the way from the people they trust. They want to hear from the experts themselves, not the old form of marketing from a television commercial. Let's look at a few ways you can use inbound marketing to attract more leads for your business.
Create A Blog
A blog for your WMS is a great space to post a number of resources for leads and potentials. The blog should house information readers need and want to know to make their experience with your product or business better. This could include things like company updates or an in-depth guide on the best ways to organize your inventory.
The main goal of blogging is to position yourself as an industry leader. You want your blog to be a place where readers can go and know they will find valuable, transparent, and up-to-date information about your industry. You want to gain their trust as their go-to sources for news.  Within blog posts, you can also place links to other blog posts and links to additional resources people may download, but we'll get to that in the following sections.
Create Free Resources
A blog can also house free resources to download and share. This could be things like a free white paper or an eBook. Resources are a great for a number of reasons, but mainly because they're a highly efficient way to gain leads. When you ask someone to download a resource, you're typically asking for their personal information first, like name, email, and company name. Once you have this information you can funnel them into your marketing cycle and nurture them to hopefully become a client. You can also promote resources on social media and as an advertisement pop-up on your website. These are both ways to direct traffic to your blog and business in general. The more content you can give away for free, the better chance you have at nurturing leads and positioning yourself as an industry leader.
SEO
Everyone knows an SEO strategy is essential to any inbound marketing plan. Keywords and topics are responsible for driving Google to your site in the first place. Consider which keywords and topics you expect your target audience to be searching for so you can include those in your blog posts and resources appropriately. The more you blog about certain keywords, the more times Google will recognize your efforts and push your post up in the search results.
However, it's not good enough to throw in a bunch of keywords without reason. In fact, you can be penalized from Google for 'keyword spamming.' Choose your keywords and topics with intent. Over time, they will gain more traction from Google's crawling and appear higher in the search results.
Link Building
Links, like SEO, are important for the authority of your company's site or blog. There's two strategies here: internal links or external links. Both hold great weight. Internal links are links to other pages within your site. Internal links create something called link juice, which means Google has a more clear path to crawl your site and increase the ranking potential for each page. Internal links also help Google establish an information hierarchy within your site, which makes you more likeable in their search results.
External links are important for the popularity and relevancy of a page. The popularity metric is easy for Google to measure, so your page may rank higher if it includes a link to a popular external site. Similarly, relevancy metrics are easy to measure as well, and help to establish your page as a knowledge hub when the links point to related content. Both external links and internal links lead users to more content and establish your company as an industry leader, which leads to a higher chance of engagement.
Guest Blogging
Work with your partners on cross-marketing initiatives like guest blog post exchanges. If you're already partners, there's a good chance their audience is looking for a solution like yours. Send them a guest blog to post on their site  to gain attention from their audience. It's an easy way to attract new traffic and earn an additional linkback to your blog. And, when you post their blog on your website, you're giving them attention which makes your relationship better. It may even increase your chance at more referral traffic from the partner in the future.