JLB Can Save You Thousands!
The Biggest Weekend For
E-Commerce is Almost Here!
This Black Friday, Small Business Saturday and Cyber Monday 2020, JLB is offering 20% off and custom built packages and huge savings to make your business boom during these events!
SALE
We understand that every dollar counts when you run a business. Our goal is to help your company this holiday season. Check out our three packages for Black Friday below, or custom-design your own!
Invest, Gain, Relax
What Do You Get?
Save thousands with these special packages! Check out one of our three options below, or contact us for custom packages!
BASIC
• Google – Custom ads for this event. Will include: Search campaigns for your products & Remarketing Campaigns.
• A unique strategy and proposal for your account.
• Google Ad Extensions.
• Banners for Remarketing (Google & Facebook).
STANDARD
• Everything in the Basic plan
• Dynamic Remarketing Campaigns
• Free Facebook Ad Setup
• Facebook Ads
DELUXE
• Everything in the Basic and Standard plan
• Dynamic Catalog Ads for your Facebook account
• Google Shopping Ads
Save the dates
November 27th, 28th and 30th | 2020
Tis' The Season For New Business!
It's one of the biggest events in e-Commerce and Retail. Black Friday, Small Business Saturday and Cyber Monday are finally here!
With COVID-19 taking 2020 by storm, this year is expecting a boom in online purchases.
Sales By Device Type
Over 63% of sales came from Mobile
Phones & 34% from Desktop.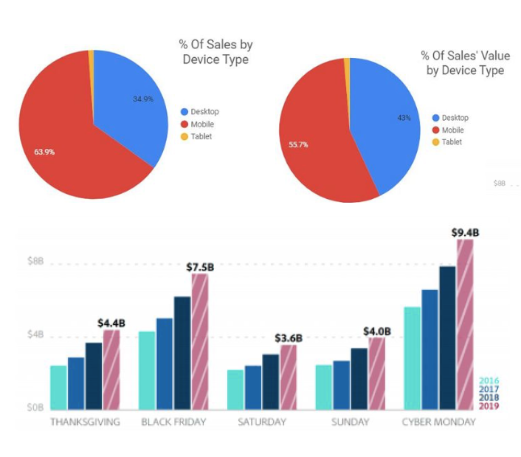 Sales By Device Type
Black Friday and Cyber Monday have registered the biggest revenue increase in the past 4 years.
What Do You Get?
Special Black Friday / Small Biz Saturday / Cyber Monday reports for your campaigns with detailed analysis. FULL TIME Support during Novemver 27-29. We will work 24/7 to monitor your campaigns in real-time.
We Will Take Our Time To Improve Your Sales
What Is JLB Offering Your Business?
One month before the event we will prepare the your campaigns, with daily meetings to talk about your ads, keywords and strategy.


24 Hours of continuous work from the 27th through the 30th of November 2020 to cover all of your Black Friday & Cyber Monday PPC needs for each of your campaigns.


Our full dedication and special Black Friday reports & daily updates.
Businesses need to bounce back, and there is no time like the present.
Your customers are trying their best to adapt to
the strange times we are going through, as their
lives become more online-dependent. As a
business owner, you are facing much of the same
issues and changes, while trying to support your
customers' needs, as well as your own.
Depending on your industry and audience, your response to the ever-evolving situation will change. You know your customers better than anyone.

Contact Us

COVID-19 Effect on Online Shopping Behavior
Detailed Performance Reports
Deeper Understanding Of eCommerce
Websites & Campaigns.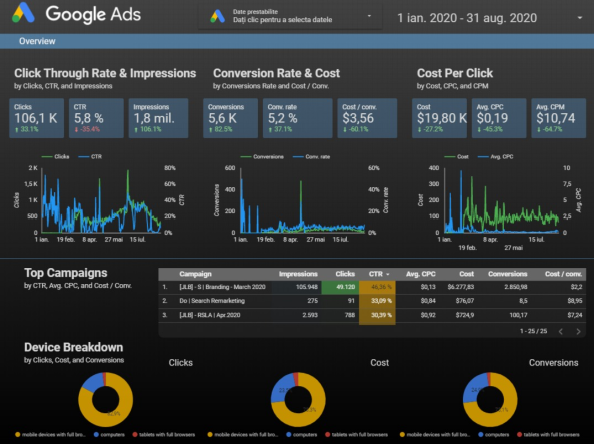 Deep Conversions Tracking Systems & Analysis
Increased Traffic, Sales & Revenue Using
Some Or All Of The Following Platforms.
Ready To Get Started?
Time is precious and we're ready to help you take advantage and stand out in front of your competitors.
Get In Touch With Us


Youtube


Facebook


Linkedin


Instagram

Categories
Sign Up for Our Newsletter